Dip into our world of Zen Kitchen Botanics and discover how our spice blends can bring a little more zen into your life.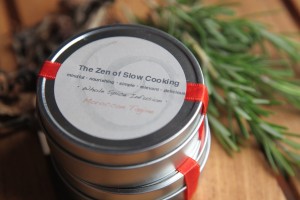 Our Whole Spice Bag Infusions™ are The Zen of Slow Cooking signature blends of herbs and spices. Using whole spices makes this product one of a kind because the pure and natural essential oils contained in these botanics release their flavors optimally over the long, slow cooking period in a slow cooker or a Crock Pot.
The Ground Spice Blends are The Zen of Slow Cooking favorites for everyday use. These one time use blends provide the flavor foundations for simple suppers from around the world.
Our blends feature…
Premium organic spices
One blend = one dinner
20 minutes or less prep time by following our simple recipes
No more stale, unidentifiable leftover herb and spice jars lurking in the back of your cupboard
Set your slow cooker or Crock Pot and leave the spice bag to take on the flavor task while you are out at work or play.
The Coq au Vin Whole Spice Infusion is the true story behind the zen of slow cooking. As an adaptation of Julia Child's classic and the inaugural slow cooker recipe which launched our website, little did we know that it would be our most successful. Slow cooked chicken in red wine is infused with Turkish Oregano, French Thyme, Bay Leaves and Peppercorns. Perfect for a dinner with friends or Sunday lunch.
The Moroccan Tagine Whole Spice Infusion tells the tale of the zen of slow cooking turning premium exotic spices into something usable for a home cook. With the desire to create something more alluring with chicken thighs coupled with our love for North African flavors, inspired the Moroccan Tagine. The saffron from La Mancha makes it no ordinary infusion.
The Indian Dal Ground Spice Blend was plotted by the zen of slow cooking as an antidote to the excesses of Halloween candy. Curried lentils bubbled away in the slow cooker while we trick or treated. Our ghoulish evening ended with us spooning lentils into warm tortilla and enjoying a delicious handheld meal. Our children of varying ages love the lentils so they have become a regular weeknight dish.
The Daube Provençale Spice Infusion was a natural sequel to our first Mediterranean blend. Inspired by requests at the farmers market for a beef recipe and given our mutual love of France,  the zen of slow cooking brings you an infusion for slow cooked beef in red wine with rosemary, parsley, thyme and orange zest.
Our Carolina Pulled Pork Ground Spices rub is a long time favorite for celebrating with friends and family on any occasion in America. Jane sends this by air mail to friends and family in England. We love the hint of smoke from the smoked paprika and salt.
Enjoy this aromatic blend which creates a warm welcome to the end of a long day at work or school.
The Sweet and Spicy ground spice blend is the Zen chapter on the versatility of our slow cooker. We discovered how moist and delicious our cakes and breads become when cooked this way.
Look for us at Amidei Mercantino [235 Southgate, Lake Forest - 847-295-5890] a family run market which carries seasonal fresh vegetables and flowers.  During the holiday season they add a wonderful selection of holiday wreaths, pots, trees and starting November 25th our zen blends!
Also at the Gorton Community Center Holiday Boutique on December 4th and Woodlands Academy Holiday Boutique on December 10th and 11th.
 …..or contact us for more information at meg.zenofslowcooking@gmail.com or jane.zenofslowcooking@gmail.com

Purchasing online – we are currently working on our online store for early 2014, please fill in the contact form below if you would like us to notify you when it opens. The first 5 emailers will receive a complementary blend when we open!
All our herbs and spices are organic and sourced through Mountain Rose Herbs.