As our zen of slow cooking mantra suggests I try to factor in slow cooking at least one evening meal a week (in addition to recipe testing for the blog the remainder of the time.)
But it's not just on my working weekdays when this is an obvious choice for me. We recently spent Labor day at Brookfield Zoo with good friends, and at the end of a fun and tiring day I knew that we'd be falling through the door at dinnertime with two fried little girls ready to drop.
Satisfying their immediate demands for nourishment sometimes means a quick boiled egg and toast for dinner, but on labor day I fancied coming home to a whole cooked chicken ready to serve. Knowing that I'd be playing catch up all week with work after the Labor day holiday, it would tick three boxes – provide us with a substantial dinner, some leftovers for school lunches and a stock for soup.
I wanted to have a whole cooked chicken falling off the bone, and a side dish without any extra fuss. To keep the chicken breast moist I used butter and spices underneath the skin. On cooking, these melted and dressed the corn underneath. The corn is soft and decadently flavored with the chicken juices and cajun. You can swap this out for thick sliced potatoes one of our alternative butter blends in the Zen Toolkit below.
The leftover chicken can be used for sandwiches or tortilla wraps for lunches the next day.
Ingredients
non stick spray
4 whole corn,husks removed
2 tbsp butter
3 tbsp cajun seasoning
1 whole chicken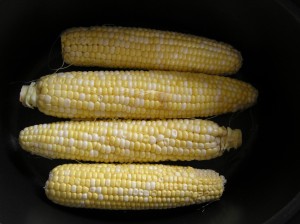 Spray the inside of your slow cooker with non stick spray. Lay the whole corn lengthways along the bottom of your slow cooker.
In a small bowl combine the butter and 2 tbsp of cajun seasoning. Put the chicken on a plate and loosen the skin on the breast. Push the butter cajun mixture underneath the skin and onto the breast meat underneath. *This can be done the evening before and refrigerated.
Place the chicken breast side down on top of the corn cobs in your slow cooker.
Cover and cook on LOW for 8 -10 hours, or high for 4.
Remove the chicken when cooked. The pieces should pull away easily for serving. Remove the corn cobs and serve alongside the chicken. Sprinkle the remaining 1 tbsp cajun seasoning over the meat.
Leave the juices in the bottom of the pan to cool and you will be left with a good stock for making a quick noodle soup.
Zen Toolkit
Flavoured butters are great to have at hand and can be frozen. Use room temperature butter and mix your favourite herbs and spices. Put the butter onto parchment or plastic wrap, roll up and freeze until you want to make this slow cooker chicken recipe again!
GARLIC AND PARSLEY
4oz butter
2 tbsp finely chopped parsley
1 crushed garlic clove
BASIL, PARMESAN & TOMATO
4oz butter
4 tbsp freshly grated parmesan (or vegetarian alternative)
8-10 shredded basil leaves
1 tbsp finely chopped sundried tomato
CHILLI, CORIANDER & LIME
zest 1 lime
½ a red chilli, deseeded and finely chopped
2 tbsp chopped coriander
HORSERADISH & CHIVE
2 tbsp horseradish cream
2 tbsp snipped chives
Zen Moment
"We're so busy watching out for what's just ahead of us that we don't take time to enjoy where we are."
― Bill Watterson
*flavored butter recipes adapted from bbcgoodfood.com