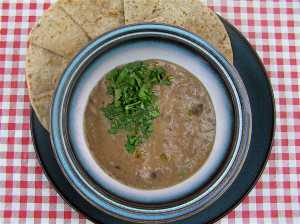 I am constantly surprised at how my girls are always after something to eat. Honestly there are times when you would think I've been starving them, especially after school pick up when their brains are frazzled after a long day and they've had 40 minutes of relief on the playground.
On the rare occasion when I covered lunch duty during Kindergarten, I would watch my daughter Lily in frustration as she fiddled and faffed before getting settled and before she knew it time had run out to eat. She went from having, luxuriously, unlimited time to sit at the dining table at home while we ate lunch together and chatted, to being up against the clock in the school lunchroom where the act of eating seemed evasive.
But unlike those first dicey months of Kindergarten, my now first grader is certainly much more adept at eating her lunch in the limited time they have. Partly because she actually likes what's in her lunchbox (she helps plan and sometimes make it.)
However, I really can't claim all the credit for this. You see over the last few years I've been taking mental notes while watching my friend Katie Sullivan Morford, author of Moms Kitchen Handbook. Katie's recently published first cookbook Best Lunch Box Ever debuted just in time for the back to school rush. Even before Katie's book launch, my keen eye noted the wonderful kitchen arrangement that she has with her daughters. Her mantra of "get them involved early" in your kitchen and from page 24 of her book "even a pre-schooler can put trail mix into containers and pull stems off strawberries," really works.
Best Lunch Box Ever shares inspiring lunch box ideas with chapters including "Leftovers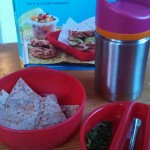 Made Over." We've taken Katie's black bean soup recipe and adapted it for our slow cookers and leftovers make a great thermos lunch for school, perfect for the cooler days creeping in.
We're giving a copy away to one lucky reader. (Super lucky because they're all sold out!) To be eligible for the giveaway all you need to do is to comment on this page or on our facebook page and tell us what your favorite slow cooker dish is and how you use your leftovers. Entry closes at midnight on Sunday, October 29th 2013.
Prep Time

10 minutes
Cooking Time

Low 8-10 hours
Servings

6 -8
Ingredients
2 tbsp grapeseed or light olive oil
1 large red or yellow onion, chopped
1 tsp chipotle powder
2 tsp cumin powder
pinch cayenne
4 1/2 cups cooked black beans/3 cans drained & rinsed *
3 cups chicken broth
salt to taste
2 tbsp lime juice
1 cup sour cream (light)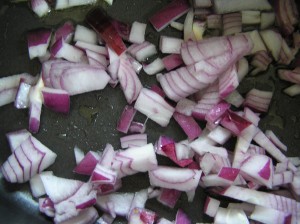 In a skillet heat the oil and add the chopped onion. Fry gently for 3 minutes until translucent and slightly softened. At this point you can leave it to cool and refrigerate overnight for assembly the following morning.
Put the cooked onions into your slow cooker and add the chipotle powder, cumin, cayenne, black beans & chicken broth.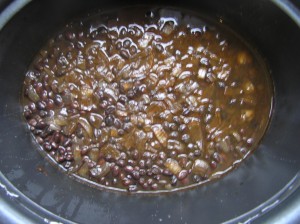 Set your slow cooker to LOW for 8-10 hours.
After cooking, add the salt, lime juice and sour cream. Blend until smooth and serve with toasted tortilla.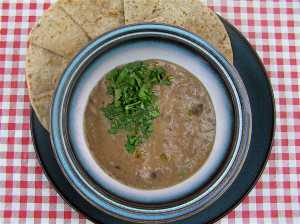 Zen Toolkit
* Katie's Crock-Pot of Beans are a simple, inexpensive nourishing route to feeding a family and leaves you with an abundance of beans for tacos, soups, salads and sandwiches.
1 lb black beans, dried
2 bay leaves
1 onion, peeled and quatered
water
Rinse and drain 1 pound of black beans, picking out any stones. Put the beans into the slow cooker and cover with water by 4 inches. Drain and rinse after 8 hours or overnight. Put them back into the slow cooker. Add 2 peeled garlic cloves, 2 bay leaves, an onion peeled and quatered. Cover with water by 1 ½ inches and cook on high for 4 ½ hours until just tender. Remove the bay and onion after cooking and discard. Add salt to the beans to taste.
Zen Moment
"Leftovers in their less visible form are called memories. Stored in the refrigerator of the mind and the cupboard of the heart."
-Thomas Fuller