Coq au Vin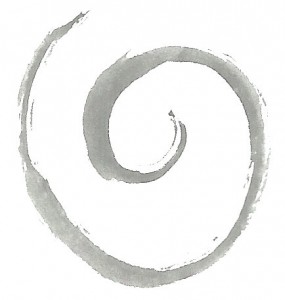 Shopping list at a glance: chicken thighs, bacon, baby onions, mushrooms, cognac, red wine, tomato paste, garlic
From your pantry at a glance: flour, salt, pepper, olive oil, 
Ingredients
3 lbs skinless, boneless chicken thighs
1/3 cup flour
salt & pepper
3 tbsp olive oil
4 slices bacon, cut into 1″ strips
12 baby onions, peeled,
1/2 lb button mushrooms, sliced
1/4 cup cognac
1 3/4 cups red wine
1 tbsp tomato paste
2 cloves garlic, minced
1 Coq au Vin Whole Spice Infusion Bag™
Method
Step 1 Place the chicken, flour, salt and pepper in a gallon size ziploc bag and shake well ensuring the chicken is liberally coated with the mixture.
Step 2 In a skillet heat 2 tbsp of the olive oil on medium high and add the chicken pieces. Brown the chicken for 2 minutes on either side until it turns a lightly golden color.
Step 3 Stir the remainder of the flour from the bag into the browned chicken and transfer to your slow cooker.
Step 4 In the same skillet, heat the remaining 1 tbsp olive oil and saute the bacon, onions and mushrooms for 4 minutes, stirring regularly, until glazed and shiny.
Step 5 Drain any excess fat from the skillet and transfer the mixture into your slow cooker.
Step 6 Stir the cognac, wine, tomato paste & garlic into the chicken mixture. Tuck the sealed Coq au Vin Whole Spice Infusion Bag™ into the chicken. 
Step 7 Cover and cook on low for 7-8 hours or high for 3 1/2 – 4 hours.
Step 8 Once cooked, discard the Coq au Vin Whole Spice Infusion Bag™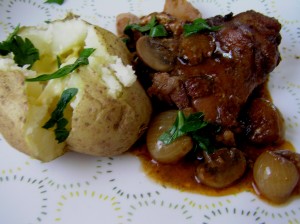 Make it a meal
Serve with baked or creamy mashed potato.
Lighten it up
Substitute the coqnac for wine or chicken broth.