Some months ago our friend Susan Kelsey, the city's Economic Development Coordinator who started the incubator program in Lake Forest, knowing that we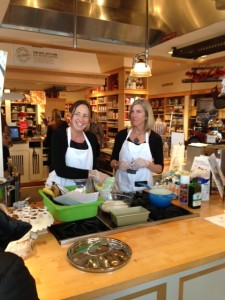 were trying hard to emulsify our zen spice and blog concepts, urged us to 'get moving" on our product in time for the Lake Forest Farmers' Market.
Susan's metaphorical "shove" in the right direction still reverberates and in it's wake we find more and more opportunities. It was during one of our farmers market mornings that we met Colleen from Williams Sonoma in Lake Forest.
So, that's how we ended up in their cosy demo kitchen for our "Re-invent your slow cooker" event, one cold and sunny winter morning. The idea was to show how to adapt familiar or favorite recipes for the slow cooker.
As we prepared Ina Garten's Leek & Mushroom Bread Pudding we looked out into a sea of friendly faces, all poised with sensible questions. And while I disappeared under a mountain of chopping boards, empty jugs and slow cookers (no fewer than 4..) Meg seguewayed into hostess mode and served up our "here's one we made earlier" bread pudding from a 4 quart All Clad slow cooker. This is a creamy, spongy and luxurious dish, good for a holiday celebration.
Most of the questions we were asked that day involved queries about substitutions. One observer happened to be allergic to mushrooms, so we suggested using small pieces of Italian sausage in their place.
We were so pleased to have the opportunity to share our zen promise and philosophy, and to answer questions in real-time with our followers face to face.
You may remember we highlighted a similar "dressing" recipe in November 2012. This bread pudding is our more decadent adaptation which we've made a little space for in our repertoire this holiday season. We hope you enjoy it as much as our friends did at Williams Sonoma.
Prep Time  

15 minutes  

                      
Cooking Time

 3 ½ hours  

   
Servings

8-10
Ingredients
6 cups (1/2-inch-diced) bread cubes from a rustic country loaf, crusts removed & toasted
2 tablespoons good olive oil (pure and not a blend)
1 tablespoons unsalted butter
2 ounces pancetta (or bacon) small-diced
4 cups sliced leeks, white and light green parts (4 leeks)
8 oz cremini / bella or mixed mushrooms, stems trimmed and 1/4-inch-sliced
1 tablespoon chopped fresh tarragon (we used dried thyme)
1/4 cup medium or dry sherry
Kosher salt and freshly ground black pepper
1/3 cup minced fresh flat-leaf parsley
4 extra-large eggs
1 1/2 cups heavy cream
1 cup chicken stock, preferably homemade
1 1/2 cups grated Gruyere cheese (6 ounces), divided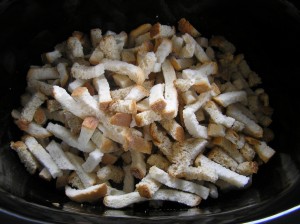 Spread the bread cubes on a sheet pan and bake for 7 minutes at 350 degrees. (I have also used store bought in the fresh bread section already cut and toasted)
Spray the insert of your slow cooker with non-stick cooking spray and put the toasted bread into it.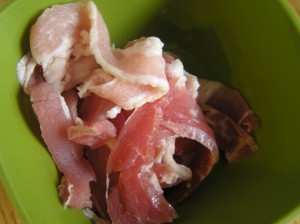 Heat the oil and butter in a large sauté pan over a medium heat and sauté the pancetta and  for 3-4 minutes.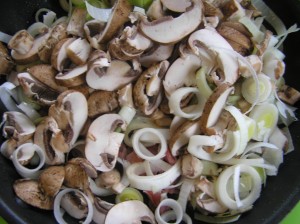 Add the leeks and mushrooms and sauté for a further 3 minutes.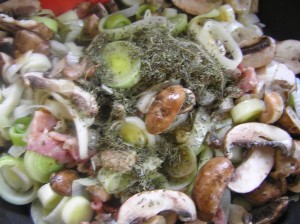 Stir in the sherry, tarragon (or thyme), 1 tsp salt and 1 tsp pepper and cook for 2-3 minutes to let some of the liquid evaporate.
Spoon the leek and mushroom mixture into your slow cooker and sprinkle over the parsley.
In a large bowl or jug, break the the eggs and whisk with the cream, chicken stock and 1 cup/4 oz of the gruyere.
Pour the egg mixture into the slow cooker and stir well to combine with the other ingredients.
Cover and set to LOW for 3 ½ hours for a 6 qt casserole or HIGH for 3 1.2 hours in a round 4 qt casserole.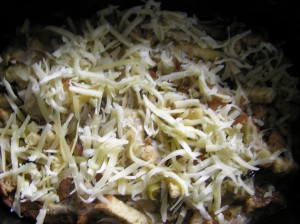 5 minutes before serving remove the lid and sprinkle the remaining gruyere over the top. Replace the lid to allow the gruyere time to melt.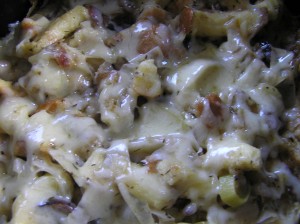 The longer you let it bake you'll have a crust on the side of the slow cooker but the interior bread pudding will remain very moist.
 Zen Moment
"I'm just someone who likes cooking and for whom sharing food is a form of expression."
-Maya Angelou